Who Is WSK?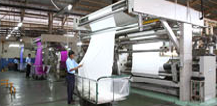 An Indonesia-based textile manufacturer specialized in warp and weft knit fabrics with over 30 years experience in fabric manufacturing.
"WinnerSumbiri Knitting is a leading textile manufacturer of warp and weft knit fabrics for ladies underwear, lingerie, swimwear/beachwear, sportswear, etc. We specialize in quality fabrics using synthetic yarns of Nylon, Polyester and Elastane Fibers to provide a range of fabrics including Microfiber, Satin Nets, Shinny Satins, Power Nets, Simplex Fabrics, Sleek Nets, etc. We own a large number of skilled staff and equipped with high-class knitting, dyeing, finishing machines and lab test equipment."
Supported by high precision machineries in its latest technology; technically seasoned and experienced team, we bring you quality fabrics. Having technically accredited testing laboratory and in compliance with International Standard, we provide you reliable reports of our best products. We comply to International Safety Regulation and environmental requirement to ensure product safety and compliance.
WinnerSumbiri has rapidly gained an excellent reputation and market share in this highly competitive sector. Being a leading supplier to global producer of high quality fabric has made us strongly built loyal customer base among leading US, European, Asian and Australian brands in the intimate apparel industry. At WinnerSumbiri, we're guided by one shared purpose: To become a vertically and fully integrated textile manufacturer who is servicing the intimate apparel industry with high sense of corporate responsibility both socially and environmentally.