KnitTech 3×1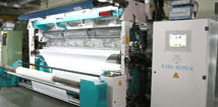 The new "all-in-one" knitting technology that allows you to have the best features in a single fabric.
For better comfort, amazing shaping and great value.
To make the most comfortable intimate garments, you need to use the best performing fabric which has the property of :
Soft
Smooth
Drapery
Anti Curling
Anti Snagging
Good Recovery
Is there any one kind of fabric in the market now which covers in one fabric all these properties! Not possible so far! However, with the introduction of KnitTech method, this is becoming possible by the innovation of KnitTech 3×1!
What is KnitTech 3×1?
It is a simple know-how in knitting in which the after – effect of this knitting process, producing a special texture giving all the performing properties in an excellent fabric which, eventually will be used by intimate apparel industry!
Why Special?
It is simply giving the need of intimate garments such as :
Super Soft: A super soft touch that almost feels brushed, yet has no special finishing applied. The best in comfort.
Light and Drapey: Despite the light weight of the fabric, the fabric has extremely high drapability for better shaping.
Smooth Surface: A special knitting process that provides the look of a circular knit and the performance of a warp knit.
Good Recovery and Anti Curl: The construction allows for limited or no curling, providing the ability to make clean-cut garments that shape well in bras and panties.
Snag Resistant: The unusual construction and yarn prevents snagging, giving a clean, fresh look all the time.
The new "all-in-one" knitting technology is special. Another interesting point is this is an eco-friendly fabric!
Why ECO-Friendly?
Because the energy used to manufacture this fabric is green energy. No waste or dyed water is disposed to river because all water are re-cycled with a closed circuit system and re-used again and again.
All heat emitting from gas generator, steam boiler or oil boiler are captured and converted to chilled water for air conditioner system thus not polluting the atmosphere and help to reduce global warming process.